Regarding Henry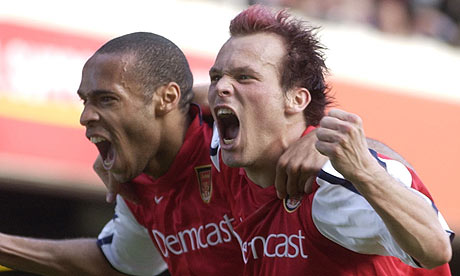 Thierry Henry
is one of the greatest soccer players in the world. When he played for the English
Premier League
club
Arsenal
, the club went on a 49-game unbeaten streak, the longest unbeaten streak in
the history of English professional soccer
, which dates back to 1888. The previous record was 42 games. A Premier League season is 38 games. Arsenal's unbeaten streak included
the entire 2003-2004 season
. Soccer is a team sport, and Arsenal had several other great players at the time, but none was better than Thierry Henry. Like Tiger Woods or Michael Jordan or Louis Armstrong, he was simply an order of magnitude better than everyone else and everyone knew it. With catlike cunning and elegance, he'd dazzle and surprise, besting the world's best defenders and scoring astonishing goals.
Henry
left Arsenal
in 2007 to play for what is probably the best soccer team in the world right now,
F.C. Barcelona
, a team that, if they manage to beat
Manchester United
in the
Champions League
final in Rome next week, will have achieved a historic
treble
, proving themselves to be the best team in all of Europe after having already proven themselves to be the best in their league (
La Liga
) and, by winning
the Spanish Cup
, the best in their country.
Freddie Ljungberg
left Arsenal
the same year Henry did. Ljungberg had been with Arsenal since 1998, a year before Henry joined the club. Ljungberg now plays for my hometown club,
Seattle Sounders F.C.
On August 5, at Qwest Field, the Sounders will play
a friendly
against Barcelona. That means that in Seattle this summer, unless something unforeseen should happen, Freddie and Thierry will once again be sharing a soccer pitch.
------
Update: Barcelona did indeed beat Manchester United in the Champions League final, beat them 2-0, becoming the first Spanish team to achieve
a continental treble
.
------
Update: On August 5, Freddie and Thierry did end up sharing a soccer pitch. Here they are embracing before the game.